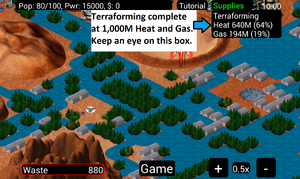 Mars Modules
Edit
Tier 2 of heat release for terraforming Mars. This is the Heat Pumps big brother, it gives off a lot more heat but consumes 5000 power. 
Build the Mars Heat Pump Module in the ShipYard on the Moon and shoot it off from the Gamma 4 Build/Launch Facility. Use 4 of these to make this 2x2 Thermal Vent.
Build the Life Support Module first as this can be placed anywhere, and all other modules must attach to a 2x2 already in place.
Yields = 300 heat a day.
Mars terraforming is complete at 1,000M Heat and Gas release. Touch on the "Supplies" box at the top right of the game to see your progress.