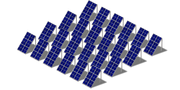 Basic Structure
Edit
Large Photovoltaic array for converting sunlight into electrical power.
These are not the best use of space to create power. Later in the game, build a few Fusion Power Plants and tear down these old solar arrays.
Requirements
Edit
Basic Stats:

Price: $1,000
Size: 2x2
Power: 500W
Pop: 0
Level: 2

Prerequisites:
Yields: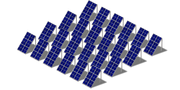 Estructura básica
Edit
Gran conjunto de células solares que convierten la luz solar en energçia eléctrica.
No es la mejor manera de gastar el espacio en generar energía. Lo mejor es construir algunas Centrales nucleares de fusión y eliminar estas antiguallas.
Requisitos
Edit
Datos básicos:

Precio: $1,000
Tamaño: 2x2
Energía: 500W
Pobl: 0
Nivel: 2

Requisitos previos:
Producción:
Community content is available under
CC-BY-SA
unless otherwise noted.