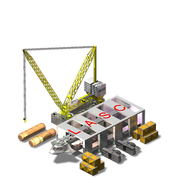 Basic Structure
Edit
This is where you can build new ships for your fleet, OR recycle old ones to make space for the new ones.
The ShipYard can also recycle vehicles.
When you are ready to terraform Mars, build the Mars modules in the ShipYard. You can also build the Gamma 4 rockets here, or else build them in the Gamma 4 Build/Launch Facility.
Requirements
Edit
Basic Stats:

Price: $1,000,000
Size: 3x3
Power: -2,500W
Jobs: 15
Level: 9

Prerequisites:

10000 Metal
15000 Mooncrete Blocks

Yields:
Estructura básica
Edit
Este es el edificio en el que puedes armar nuevas naves para tu flota o reciclar naves antiguas y hacer espacio para las nuevas.
El astillero también puede reciclar vehículos.
Cuando estés listo para terraformar Marte, los módulos se construirán aquí. También puedes construir aquí los cohetes Gamma 4, o en la estructura de lanzamiento y fabricación Gamma 4.
Requisitos
Edit
Datos básicos:

Precio: $1,000,000
Tamaño: 3x3
Energía: -2,500W
Trabajos: 15
Nivel: 9

Requisitos previos:

10000 Metal
15000 ladrillos lunares

Producción:
Community content is available under
CC-BY-SA
unless otherwise noted.