The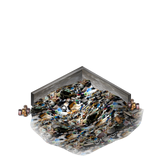 Dumpsite is the biggest waste management facility and the most efficient one.
It is perfectly suitable for those who import waste onto their base to make profit since one site diminishes the amount of waste by 750 kg per day.
We must admit it is not a tourist attraction but it can make you serious money. Solid Waste is traded as one of the Resources on The Market and its price varies between $1 and $3 dollars, so watch the market and buy it at $3.
Requirement
Edit
Basic Stats:

Price: $500,000
Size: 3x3
Power: -100W
Pop: -1
Level: 16

Prerequisites:

Yields:







Yield time: 3d(72s)