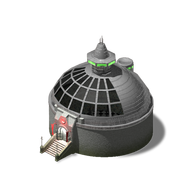 Basic Structure
Edit
Once you've got the essentials of survival sorted; your food, water, air and so on, what's next? That's right! Gossip, cliques and favouritism. To make these things easier, it's concentrated in one easy to find place and delegated to that most honourable of professions - the politician. Before long, they're developing true bipartisan intentions and making sure that each and every crisis is properly dealt with by focus groups, inquiries and, most of all, properly apportioned blame.
On a gameplay level, the city hall provides several achievement awards:
Old Timer - Length of time played
Popular Guy - Maxiumum population
Job Jockey - Filled jobs
Tourist Trap - Cumulative number of tourists since first base
Pioneer Power - Number of Watts generated
Fusion Fanatic - Number of Fusion Power Plants
Fission Freak - Number of Fission Power Plants
Sky Pilot - Cumulative number of ship launches
Teleport Jetlag - Cumulative number of Teleporter visits since first base
Try Again - Cumulative number of NewBases since beginning
Awards galore - Percentage of achievements reached.

Each accomplishment comes with a reward, usually resources or a vehicle.  
The Awards are permanently awarded.  This means that if you start a NewBase you will not have to do an award that was already awarded to you.  It will remain green forever and the reward will be given to you for free as soon as you build a City Hall on the new base.  This means you can take multiple games to reach your 100% completion rate.
You'll find this listed on the Facilities page under Services and Admin.
Requirements
Edit
Basic Stats:

Price: $1,000,000
Size: 3x3
Power: -1,250W
Jobs: 20
Level: 7

Prerequisites:

2,500 Metal
7,500 Mooncrete Blocks

Yields:


Yield Time: 7d0h (168s)
Community content is available under
CC-BY-SA
unless otherwise noted.